Sharks training is starting this week and we are chomping it to bits to get out there!
Although some teams may decide to start a little later, it will be great to see players out training again at Shark Park!
As part of our Return to Training Plan we are adopting all recommendations from Government, State and Local, AFL VIC and Yarra Junior Football League.  Sharks have set up a Covid-19 Sub Committee, we have appointed a Covid-Safe Officer, Andrew Hind and we have put in measures to protect our players, our volunteers and the community.  We have adopted a policy that all our coaches, assistant coaches, team managers and committee must complete the Infection Control Training – Covid-19 online training course. If you would like to do it as well please go to the Department of Health website.
All players and families have been provided with a Sharks Return to Training Summary which you can download here.
We would also like to provide you with links of our references which are:
Department of Health and Human Services Victoria website
AFL VIC Return to Small Outdoor Group Training Protocols 18 May 2020, and the
As we come out of our slumber, we need to make sure our players are ready!  Do your last season boots still fit?  Do you need new performance underwear?  Don't forget to support our supporters and buy locally.


Athletes Foot Camberwell is open for business and Chris and the team are ready to fit out young Sharks.  Don't forget to mention you are a Shark and you receive a 10% discount – Win-Win!!

Move Performance Underwear has the best range of Training and Game Day underwear and they are available through our website and Sharks receive a 15% discount – how lucky are we!
It is still a long road ahead before we go back to Football as we know it, but how good will it feel to be out there again!  Maybe we should celebrate with some pizza and pasta from Mimi's Restaurant or a burger from Grill'd!
Remember to support our local businesses, sponsors and partners along the way too – head to our Sponsors Page on our website HERE or follow the Camberwell Sharks Local Businesses page on Facebook HERE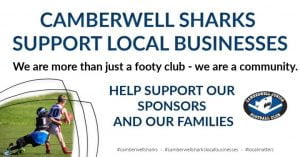 We look forward to seeing all our players out at Shark Park!  Go Sharks!!!