The Camberwell Sharks Junior Football Club is passionate about girls football and girls being active in our community.  Our passion has seen our girls football grow 400% from last season to our current season where we now have five girls only football teams. 
Auskick
We have our Camberwell Sharks Auskick Centre, held at our home ground, Lynden Park every Saturday morning which currently has 23% female participation.  This is a fun atmosphere where basic skills are taught from Kinder to Grade 3.
Summer Program
Our Summer Program last year was a huge success with over 50 girls aged 7yo to 17yo coming along each week to participate in the program.  The program will be run again this year from November 2018.  The aim of our Summer program is to provide girls with a diverse range of activities to cater for all abilities and to learn to have fun on and off the field!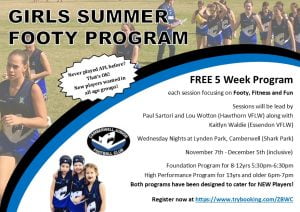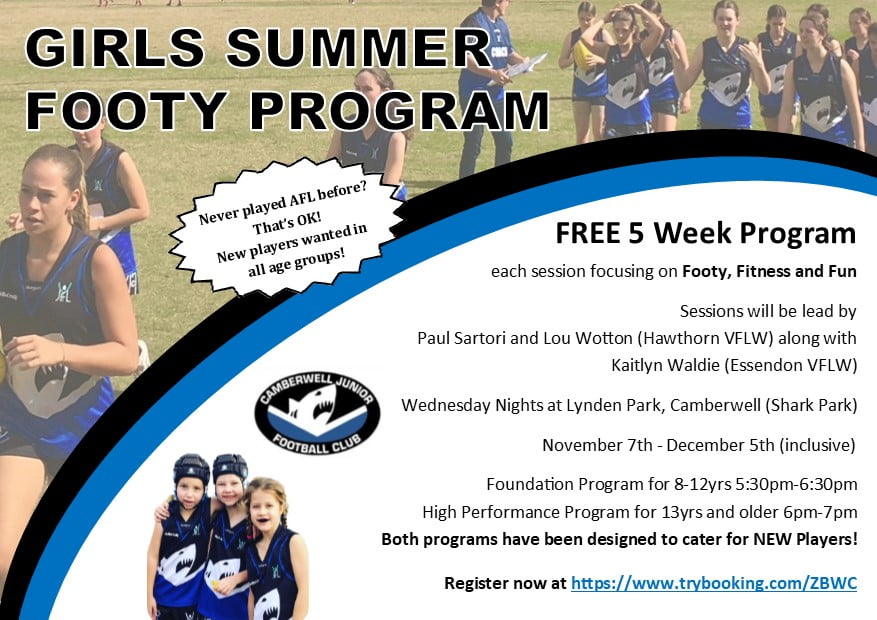 Junior Football
Our 2018 Season skyrocketed our girls footy with a jump from 28 registered in 2017 to over 100 girls registered in 2018, filling five girls only teams!
2019 Season we now have 6 teams – Under 10s, Under 11s, Under 13s, Under 14s, Under 16s and Youth Girls.  
Our male and female coaches provide the girls with a safe, fun environment to learn and grow and to become resilient, strong girls both on and off the field.  
GO SHARKS!